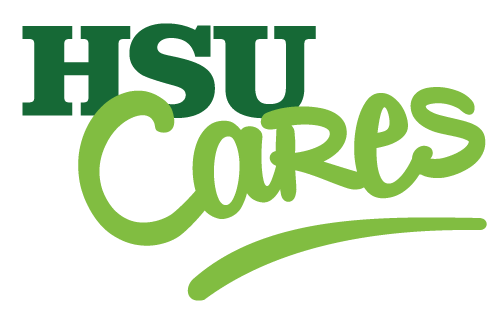 Celebrating HSU Staff and Faculty Philanthropy On and Off Campus
What is HSU Cares?
HSU Cares is a celebration of HSU Staff and Faculty Philanthropy on and off campus. This four week campaign highlights how HSU employees are giving not only to the campus community but also in the surrounding community. You are encouraged to think about the ways that you give and consider HSU as one of the ways.
Questions?
Please contact Travis Williams, Director of Annual Giving, at 826-5102 or tjw17@humboldt.edu.
F.A.Q.
What can I give to?
That's up to you! What department, program, or scholarship inspires you? The only guideline is that it's best to make a gift to an established fund. Please contact us if you have a question about a specific area or fund.
How much should I give?
You determine the size and the designation of your gift according to your own philanthropic priorities and financial capacity. No gift is too small; your participation is what's important!
What will my gift do?
In addition to supporting what inspires you, your participation in HSU Cares is a vote of confidence in the University. Along with your daily contribution of energy, effort and expertise, a financial contribution shows students, alumni, parents, and community partners that you believe Humboldt State is a good investment.
How does payroll deduction work?
Payroll deduction is an easy and convenient way to give by spreading your gift over time. You determine what amount you want to give. An automatic monthly deduction from your paycheck results in an annual gift that can make a real difference. For example, $10 each month builds to an annual gift of $120.
How to participate in HSU Cares this year:
 - Share your moment with campus! This year the Office of Philanthropy is asking alumni, parents, students and employees to tell the story of a defining moment in their HSU experience. All month long, a team of students will be sharing staff and faculty moments on this blog: humboldtloyaltystories.tumblr.com. Email giving@humboldt.edu to meet with a student and share your moment!
 - Participate in the HSU Cares Run for a Cause. Forever Humboldt Students are organizing a fun event on Friday, October 14th at 4pm. This event will raise funds and awareness of ways that donors can directly impact HSU students. Staff and Faculty are invited to participate as donors, and as runners or walkers.
 - Fundraising Workshops:
 - Each year State of California Employees participate in a campaign called
"Our Promise"
to designate a portion of their paychecks to regional charities via United Way. We have your form in Nelson Hall West 201.  If you would like to donate or update your United Way donation, please visit our office for more information.