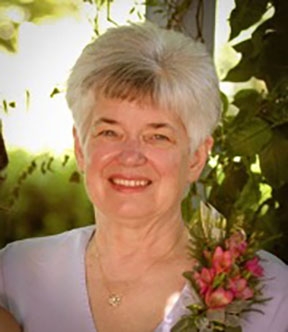 Diana was born in Glendale, California, grew up in Sylmar and, after two years at Los Angeles Valley College, went "as far north as possible without paying out-of-state tuition," to Humboldt State College, where she graduated in 1966 with a Bachelor's degree in Home Economics, specializing in sewing and textiles.
She and her husband Jack first met in the college library in 1964. They married Labor Day weekend, 1965, just before starting their senior year of college. After graduation, Diana and Jack relocated to the Bay Area, where they raised two daughters. Through their 20 years in San Pablo, Diana was an active volunteer and after the Vietnam War ended, was a Red Cross volunteer during Operation Babylift, and went on to help Vietnamese refugee families resettle in the East Bay.
In 1987, Diana and Jack moved to Fair Oaks where Diana spent 20 years as an administrative assistant at Intel in Folsom, supporting several different groups and leaders. In 2010 she was diagnosed with cancer; but didn't want it to define her life relying instead on her strong Christian faith. One of the greatest joys of Diana's life was becoming a grandmother to her only grandchild, Bess. Even as her illness slowed her down, Diana shared her love of sewing with her granddaughter. 
Throughout her life, Diana was a nurturing caregiver who served others as a mother, grandmother, aunt, volunteer and Deacon. This scholarship honors and appreciates the nurses in her life, including the friend who brought her to Operation Babylift, her daughter and sisters-in-law, and her hospice care team. We hope this scholarship will provide assistance to those striving to secure their Bachelor's Degree in Nursing (BSN), across all disciplines of healthcare, allowing them to better serve their communities by providing care, comfort, and healing to their patients and families.